Get our Free
Exclusive Report: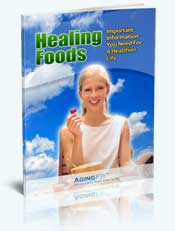 - Amazing Foods That Heal - Powerful Healing Foods Guide
We'll also add you to our
popular, Aging Fit
health secrets series.

AgingFit.com Proudly Leading The Online Health Information Revolution
Whether you are just researching a health problem or looking to improve your quality of life, we can help with information and resources to manage and minimize the impact of common challenges faced as we age. We can help with the following:
Hearing Loss - Reviews of hearing aids, oclear devices, and supplements that can help reduce hearing loss with age.
Mental Health - Research regarding memory loss, living with dementia, and the most up to date medical recommendations to help reduce the risk of alzheimers.
Cardiovascular Problems - Recovery information for sufferers of a heart attack, how to minimize the risk of a stroke, blood vessel elasticity problems, and alternatives to managing high blood pressure with medication
Digestive Health - Natural remedies for constipation, irritable bowel syndrome, living with diabetes, relief for incontinence and maintaining healthy bladder control
Anti-Aging Techniques - Recommended wrinkle creams, treatments, and up to date research on diets and supplements that reduce the effects of aging.
Proper Dental Care - Proper denture care guides, how to avoid calcium loss and improve the health of your teeth
Chronic Pain Management - Recommended methods to manage chronic pain whether you suffer from arthritis pain, thrombosis, a medical condition, back pain we review the research for effective chronic pain management
Vision Problems - How to maintain healthy vision, methods to improve your eyesight, recommended vision treatments, and effective vitamins and minerals for maintaining healthy vision
Healthy Prostate - Managing prostate urinary flow issues, cures for incontinence, and a review of recommended techniques to minimize the risk of prostate cancer
Bone Deterioration - Osteoporosis, bone shrinkage and calcium loss research on how to minimize the effects of bone density loss for a healthy skeletal system
Maintaining a Healthy Hormonal Balance - Managing the side effects of female estrogen menopause and male testosterone andropause and methods to maintain healthy hormone levels
Mobility Solutions - Mobility scooter recommendations, reviews of medical walkers, walking aids and sticks.

Aging Fit - Health Research & Information
Better Health. Energy. Quality.